On the previous post, "Display a Webpage on Your Desktop (Window XP)", I had show you how to display a webpage on your desktop using Active Desktop feature under Window XP. For Window Vista and Window 7, Microsoft has remove this feature, and replace it by Desktop Sidebar Gadget. Therefore, to display a webpage on your Window Vista or Window 7 desktop, you will need to use this gadget called ActiveDesktop. You can get the gadget at the ActiveDesktop page, or download it from the end of this post.
After you download the Gadget file, simple unzip the file and run the .gadget file. The gadget should appear on your desktop after the installation. If it doesn't appear or you accidently close it, you can enable it back from the Gadget list. Right click on your desktop and click Gadgets.
You should see the ActiveDesktop gadget under the list. To enable it simply double click the icon, or you can drag the icon of the gadget to your desktop. The URL of the default setting is "http://www.microsoft.com".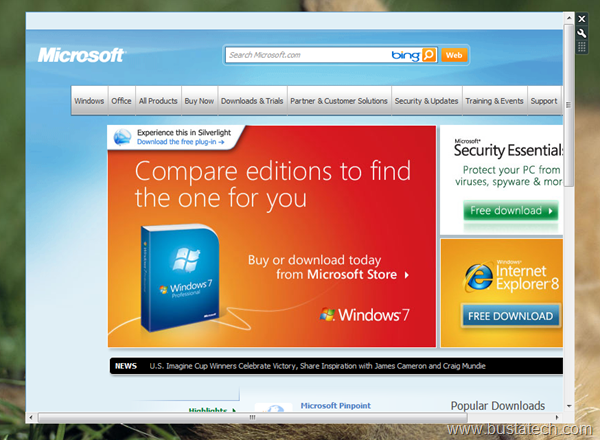 To edit the setting of the gadget, click the Options icon at the top right of the gadget.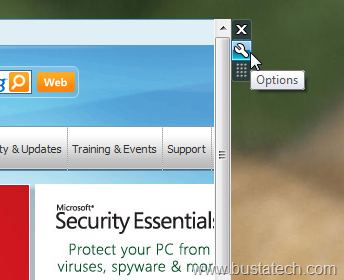 It will show a simple setting page where you can choose the URL, Gadget Width, and Gadget Height. Please take note that for the URL, you need to include the http:// at the front of the address. For example, if you put "www.bustatech.com" it will not work, you need to put "http://www.bustatech.com". One thing I experience here is when you inserted the wrong URL, for example "www.bustatech.com" and you click OK, the whole gadget will be kind like hang, and you cannot close it, the only way to reset it is to uninstall the gadget under the Gadget List.
For the width and height, you can adjust according to the webpage you want. For www.bustatech.com, I put the width to 1000 and the height to 700.
Click OK, and you should have a nice page laying on your desktop. you can also drag the gadget by clicking on the Drag gadget at the top right of the gadget, and to close the gadget, simply click the "X".
Another cool feature about the gadget is you can set the opacity, which means the gadget will become transparent if you are not focusing on it. Right click inside the gadget and set the Opacity.
Now, whenever your mouse leave the gadget, it will become 40% (this is my setting) transparent, which is quite cool.
And when you mouse is inside the gadget, it will become non-transparent.
Have a try!
Download