https://chrome.google.com/webstore/detail/aknpkdffaafgjchaibgeefbgmgeghloj?hl=en-US
One good news for all Angry Birds fans, you can now play Angry Birds on your Google Chrome. Click on the link above (make sure you are using Google Chrome), and click install.
After the installation, you should have the Angry Birds icon located under Apps in your New Tab.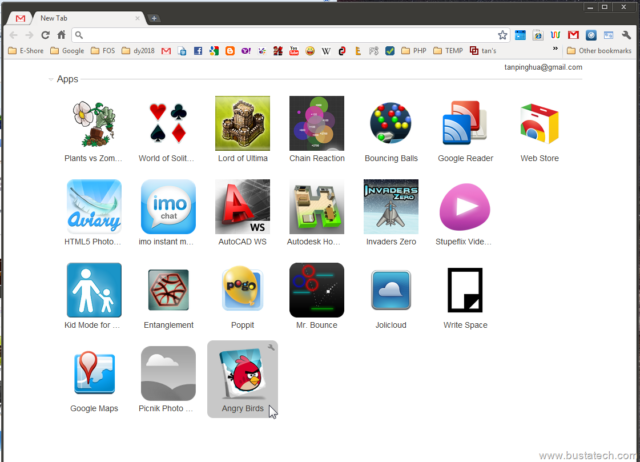 Double click on the Angry Birds Icon to start the game, let it loading for a few seconds…
And you should be able to play.
The whole interface is quite similar to what you've seen in iphone or Android version, but there are some differences in the levels available. The 1st one Poached Eggs, similar to what you have in iphone and Android.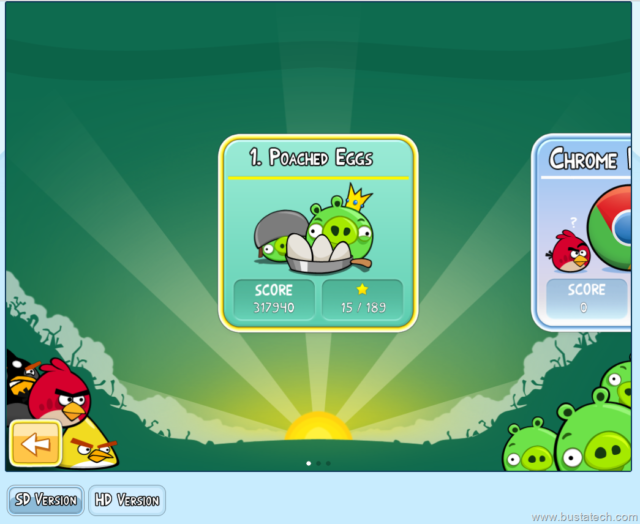 The 2nd one is different, Chrome Dimension, which is not usually seen in iphone and Android, I haven't try it yet, because you will have to pass through the Poached Eggs to unlock this Chrome Dimension.
The 3rd one, is More Coming Soon!, not clickable, but I believe this version of Angry Birds for Google Chrome is only demo version, so, they are still working in adding more playable levels to this Angry Birds for Google Chrome.
For this Angry Birds web apps, you can actually run this web apps even in Mozilla Firefox, Internet Explorer or Safari (for Windows). Simply visit the link http://chrome.angrybirds.com/ on the Mozilla, IE or Safari, and you can play Angry Birds on the browser you use. But for the game performance, I think the game run best under Google Chrome, maybe because the game is design for Google Chrome (even the link is chrome.angrybirds.com).
Have a try, and please comment if you have anything to say about the game.
Updates
I made some mistake about the Chrome Dimension level. I said that in order to play Chrome Dimension, you'll have to pass through all Poached Eggs levels, that is actually a mistake. Under the Poached Eggs levels, you will find Google Chrome icon in the game. Like these examples:
If you are able to hit the Google Chrome icon, then you will unlock one level under Chrome Dimension.
I've unlocked 3 levels under Chrome Dimension.
These Chrome Dimensions levels use buttons in Google Chrome as the object in the game, like the Favourite button, back button, setting buttons, and if you notice, lots of Google Chrome icon is integrated into the background image, like the cloud, the Google Chrome flowers.
Have a try! Please comments if you have any new discoveries in the this Google Chrome Angry Birds.