Under Gmail setting, you can set the Email Forwarder to forward every incoming mail to another email address. To enable the Email Forwarder, click on Settings at the top right of the Gmail page.
Then click on Forwarding and POP/IMAP at the Settings Menu.
Under Forwarding and POP/IMAP, Click Forward a copy of incoming mail to [   ] and [   ]. There you can set the destination email and you can also choose to keep, archive, or delete the Gmail's copy.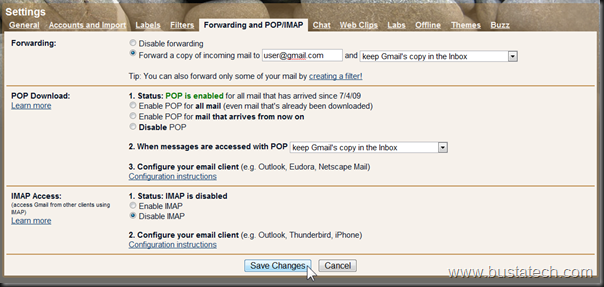 But by using this option, you can only forward all the incoming email to one email address. There is no option to insert the second email address.
Here I am going to show you a trick to make Gmail forward all the incoming mail to more than one email address by using the Filters. Click on Filters under Settings.
You can see that I already have few filters apply to my incoming mail. Now click on Create a new filter.
At the Create a Filter page, there are few option for the filter; From, To, Subject, Has the words, and Doesn't have. Here we will use Doesn't have. Means that the filter is filtering the incoming mail that DOESN'T HAVE the text you key in there. So, I will simply key in something that is meaningless, to make all the incoming mail pass this filter, unless the incoming mail really have exactly those meaningless text that I've entered. Since normal email (unless you do it purposely by creating a mail with exactly those meaningless text) will pass the filter, so, I can say that all incoming email will pass the filter you are creating. Click Next Step to continue.
This step require you to choose the action for the incoming mail that pass the filter we've create at the previous step. Click on Forward it to and insert the email address you want the incoming mail to be forwarded to, and click Create Filter. So, you are making Gmail to forward all incoming email to the second email account. For the third email account, simply repeat the steps on creating filters.
If you have any enquiries about the trick or you have any recommendation, please leave a comment.