Dropbox is an useful application that automatically sync your files on multiple PCs and even your handphone. More info about dropbox here. You can create your Dropbox account and get the Dropbox installer for free from http://www.dropbox.com. For free account user like me, you are only allowed to put maximum 2GB of file into your Dropbox. To get larger space, you can either pay for Pro account or you can run multiple 2GB free account on your PC. I will shows the step by step on how to have multiple Dropbox running on your PC at the same time.
The first step is to visit http://nionsoftware.com/dbpahk/ and download the latest DropboxPortableAHK from the page, or you can get the download link at the end of this article.
The latest version at the time of this writing is 1.1.1.
After downloading the zip file, extract it, and you should have a DropboxPortableAHK.exe (executable file), and readme file for English and German.
Double click to run the exe file, and it should prompt you to download the dropbox application files.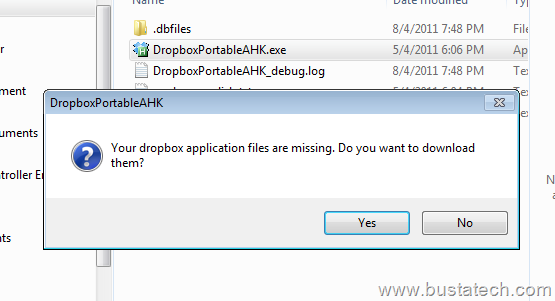 Click Yes to continue. It will again prompt to ask if you want to use the beta version. That is up to you, for me, I choose No.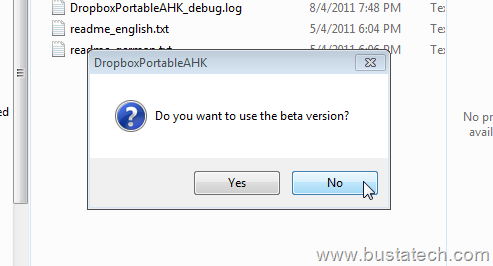 It should started downloading around 15MB files.
After the Download completes, it should pop out a Windows for the setting for your Dropbox.
I think it is ok to leave all the setting by default, or unless you want to change the Dropbox folder path. Take note that the ".\" at the dropbox represent the folder of DropboxPortableAHK.exe file.
After clicking OK, another prompt. Click OK.
Then you should proceed to the Dropbox setup. You can create an account or use your previous account.
Key in your Dropbox account information.
Choose Free account.
And use Typical setting for the Dropbox.
Click Skip tour.
And Finish.
Then you should have your DropboxPortable running together with your default dropbox. You can see from the image below that I have 3 Dropbox running on my PC.
If you didn't change your setting for the Dropbox folder location, you should have one folder called Dropbox at the same folder as the DropboxPortableAHK.exe file.
To run another Dropbox, simply repeat the steps, and you can have as many Dropbox as you wan on your PC. You can also carry this Dropbox (you will need to carry the whole DropboxPortableAHK folder) in your pendrive or portable harddisk.
Download
or you can download from http://nionsoftware.com/dbpahk/download