This morning, I decide to change my wall paper, which is used for quite some time, I fire up my Google Chrome and do a normal Google Image search. As normal, I click on the image that i found interesting. But this time, after I click this, the image page is not the normal image page from Google. To reconfirm this, I repeat the search on few other keyword, which all result in same image page.
Once you click on the image you would like to view more, you will notice that the image page has been changed. You can actually click next to see the next result and it is extremely fast. Under the image you can also see the link to the site, full-size image or find similar images. The right side of the image, you will see the detail of the image.
The next thing I do is to check when did Google change this? then I open the Google Image page from Google cache and found out the the cache which is 29 Jan 2010 12:40:58GMT is still using the old format.
Do a "wallpaper" search on the cached page.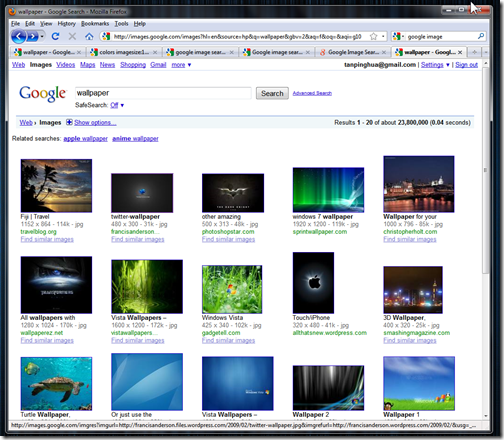 The old image page we've seen.
Open your browser and try the new Google Image: http://images.google.com/